Here are just a few comments from some of our customers. Thank you to each and every one of our wonderful customers! We have so enjoyed working with you all!
I was looking for a special gift for some friends who took in my chins while I moved. I decided to get some wine glasses and pub glasses and a beer picture personalized for this couple who helped me out. Kindra and her husband were wonderful to deal with. I had a certain picture in my mind and I described it to Kindra and she came back with exactly what I was thinking of. They were a pleasure to deal with and did beautiful work.
Thanks Again!!
Marla
PA Chinchillas
He's doing great and loves getting attention from me! I renamed him Ninkimono which is Japanese for "favorite or popular one". And he sure is my favorite chinchilla! He is very social and will jump in my hands. My other 2 chins do not do that. He's one cool chin and I love him! I told Brian that if all of your chins are social like Ninkimono I definitely want to get my next one from you again!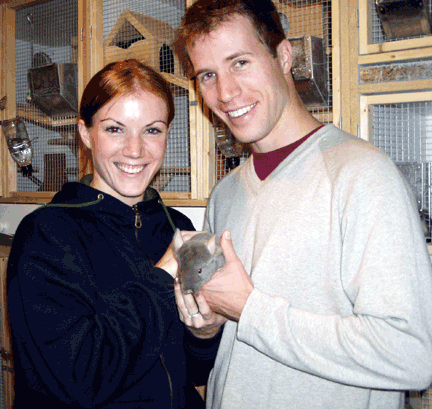 This is Chocolate, whose new name is Hefalo, on his way home with his new mom, Kathleen.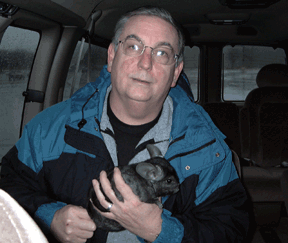 These pictures were taken when their new parents met us to pick them up.

Hermione after a dust bath, enjoying a treat in her new home with Angie
Kindra,
I thought buying a chinchilla over the internet would be really hard. After speaking with you several times and discussing your policies I found it really wasn't. Thank you for providing me with a beautiful chinchilla and for the kindness and willingness to answer all my questions, even the dumb ones. You have bred such beautiful animals, and I hope to soon purchase another chin from you.
Thanks again,
Angie and Hermione

Hi Kindra,
The wheel arrived yesterday. For less than 15 min. I put it in the cage, my chin figured it out and had so much fun with it. she never had one before, it surprised me how fast she know how to play with it. it works great. I can hear she play with it all the time last night. The product is much better than what I expect and especially when compare the value to the price. Thanks for making this affordable good quality wheel.
I was going to build one at first coz there are all too expensive but when I saw yours wheel I know that I not gonna be able to make one as strong. and your price is very reasonable.
ART & Lunar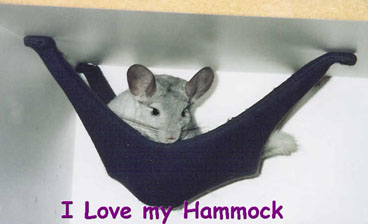 Miss Kindra lady, this is Jelly Bean here. I just wanted to sneak on the computer to tell you how much I love my new hammock. I even was sleeping in it today when my furless mommy got home. she was so excited, although she said I was suppozed to make room for Jordan. Anyhow, mommy said you made the hammock so I wanted to say thank you. It is so warm and soft. And now Jordan isn't using me for a pillow