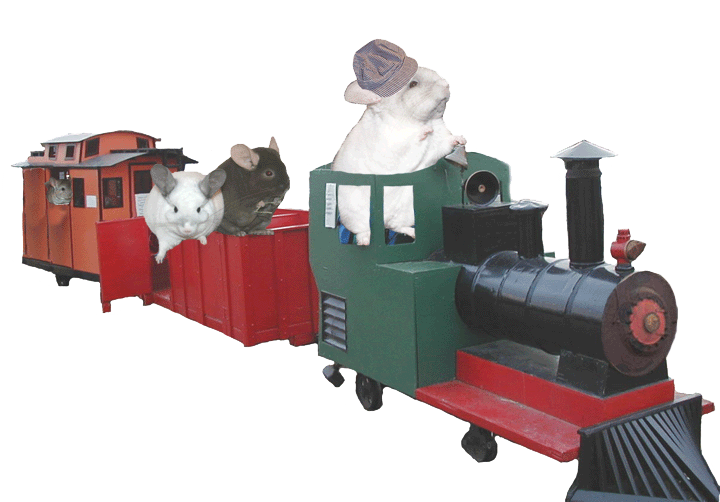 We are currently looking to sell our herd due to other obligations and lack of time. Our chinchillas are highly loved and of good quality and health. the fact that we want to sell them in no way means we will not still be very careful in who these chins go to.
We are no longer keeping our pictures on our nursery or sales page up to date. Our parents are still the same as on our My Chins page, so you can see what colors we can produce. If there is a color you are interested in, please email and ask. We are NOT open to the public, so please do not ask to come "browse".
I am a small hobby breeder, located in central North Carolina. I have been breeding chins since 2000, though I have owned them, on and off since 1984.
Even though we are now concentrating on our dwarf line, we will continue to have occasional litters of normal ebony, and ebony white crosses.
We are now concentrating on a dwarf line of chinchillas. This is a totally separate herd from my 'normal' chinchilla herd. To read about dwarf chinchillas, see our DWARF page.
Each of my babies is handled constantly from the moment they are born. They are all very friendly and healthy and they are all considered members of my family. For this reason, I am very choosey when it comes to who purchases my chins.
So, if you contact me about one of my chins, please do not be surprised or offended when I ask lots of questions! I am not trying to be insulting, I just care a great deal about my babies. Please, before contacting me, read my sales agreement.
This site is set up with the intention of helping people understand and care for chinchillas. I have put information on this page about only those issues that I feel I am qualified to talk about. On my links page, you will find links to other sites that have other information about chinchillas. Please, for your happiness, as well as that of the chin, research all you can prior to buying a chinchilla.
I am also happy to now be able to provide products for pet owners as well as for their pets. Not all of our items are chinchilla items, so please browse through our products for sale, you might find a nice surprise.
---
Contact Information
Electronic mail

General Information: kmammone@spoiledchins.net
Webmaster: kmammone@spoiledchins.net
Copyright © 2002, 2003, 2004, 2005, 2006 Kindra D. Mammone, All Rights Reserved
No materials from this web site may be copied or used without express permission from the owner of this site.
You are visitor #
since February 7, 2006